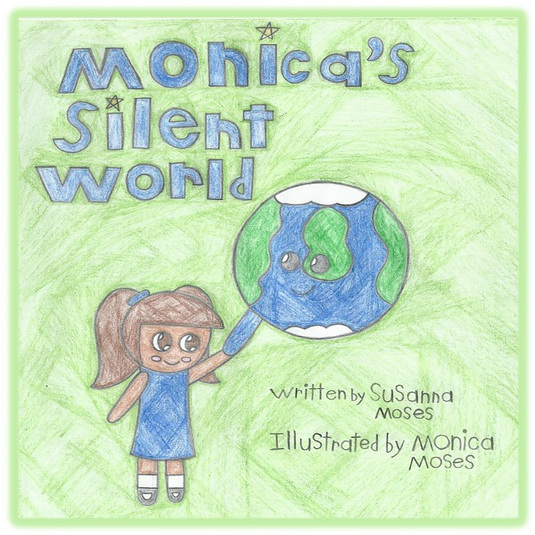 Meet Monica. An adorable little girl with a wild imagination and a curious nature. She gets into everything!
Monica is creative, intelligent and funny. She loves to play, but usually all alone. Monica does not talk, so it is difficult for her to make friends. Children do not understand why she cannot speak and sometimes tease her. They call her cruel names and tell her that she is weird. What other's think is different about Monica, is actually unique. Monica has Autism.
Join Monica on her many adventures and experience what it is like to live with autism. You will gain an understanding of autism and learn to appreciate these amazing individuals.
Monica's Silent World is a picture book series appropriate for all ages. This series was written to promote awareness and teach the audience how a mind affected by autism perceives and processes everyday life. Monica Moses, born a healthy, neuro-typical baby, experienced a rapid developmental and physical regression at the age of 20 months. At 32 months she received a final diagnosis of severe Autism Spectrum Disorder with severe Motor Deficiencies. Today, at seventeen, she has been re-assessed as having Asperger's Syndrome and no longer needs any mobility assistance. Her remarkable healing has spanned over 18 years and continues today. Susanna Moses, her mother, wrote this first book for the Monica's Silent World series in 2001 when Monica was still non-verbal. The publishing of Monica's Silent World has taken 16 years. Susanna was in search of the perfect illustrator. Who would have ever imagined that the artist would turn out to be Monica herself? You can read more about their incredible story in Monica's Silent World. Please visit
www.mosespublishing.com
to get your copy today!
Monica is an inspiration to all who know her. She has used her artistic talents to create a website where other children and young adults with varying exceptionalities will be able to showcase their gifts. She will also be sharing her creativity and original comics strips, animated shorts and even an online game she designed. The site will also have many other cool functions and fun activities. It's a unique and safe place for kids of all abilities. Currently under construction,
www.cartooncool.org
is the first site of its kind. Please visit frequently to experience its development and sign up for cool alerts. If you work in web development and would like to donate some of your time and talents, please contact us, we would be grateful for any help! To learn more about Monica the Illustrator, please click on the 'About Monica' tab on the site menu.
To learn more about Autism and ways that you can help promote awareness and/or donate to advocacy and research, please visit
www.handinhand4autism.org
Hand in Hand Autism Resources, Inc. was founded by Susanna Moses in 2001 to promote autism awareness, extend free resources to families with children with special needs and to provide parents and caregivers tools to help them effectively advocate for their loved one. Susanna has always believed that Monica has a purpose in life. In spite of horrendous obstacles, she has spent the past 15+ years helping Monica overcome adversities, teaching Monica how to utilize her strengths and guiding Monica to find and develop her gifts. If you would like to learn more about Susanna, please visit www.susannamoses.com or click on the 'About Susanna' tab on the site menu.
Please share our story and website with others. Thank you for visiting us!
---